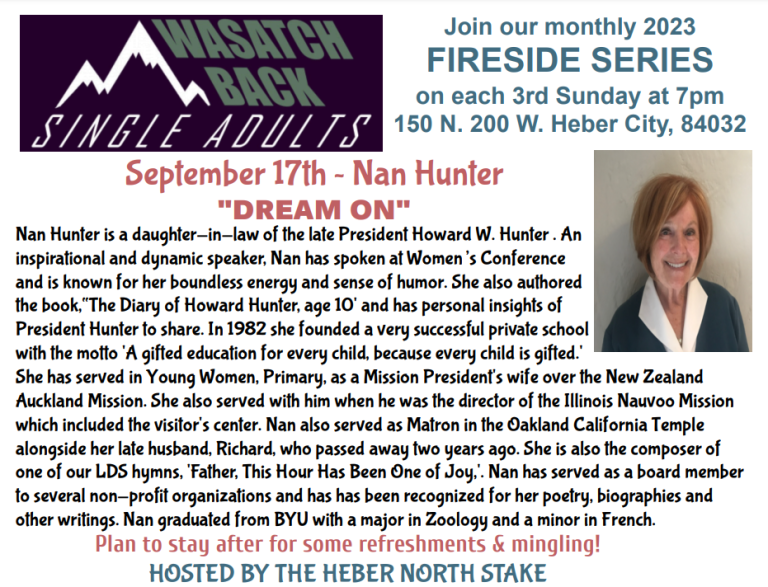 WBSA Monthly FIRESIDE ~ Nan Hunter ~ "Dream On"
150 N. 200 W.
Heber City , UT 84032
Join us for another wonderful fireside. Our speaker for this evening is Nan Hunter who is full of energy and great humor. Read more about our phenomenal speaker below. After her presentation, be sure to stay after for refreshments and mingling in the cultural hall. (NOTE: There is a separate mingling in the RS room for Mid-Singles age 31-50 for those who desire).
Nan Hunter is a daughter-in-law of the late President Howard W. Hunter . An inspirational and dynamic speaker, Nan has spoken at Women's Conference and is known for her boundless energy and sense of humor. She also authored the book"The Diary of Howard Hunter, age 10′ and has personal insights of President Hunter to share. In 1982 she founded a very successful private school, with the motto 'A gifted education for every child, because every child is gifted.' She has served in Young Women, Primary, as a Mission President's wife over the New Zealand Auckland Mission. She also served with him when he was the director of the Illinois Nauvoo Mission which included the visitor's center. Nan also served as Matron in the Oakland California Temple alongside her late husband, Richard, who passed away two years ago. She is also the composer of one of our LDS hymns, 'Father, This Hour Has Been One of Joy,'. Nan has served as a board member to several non-profit organizations and has has been recognized for her poetry, biographies and other writings. Nan graduated from BYU with a major in Zoology and a minor in French.
We look forward to seeing you there!
HOSTED BY THE HEBER NORTH STAKE