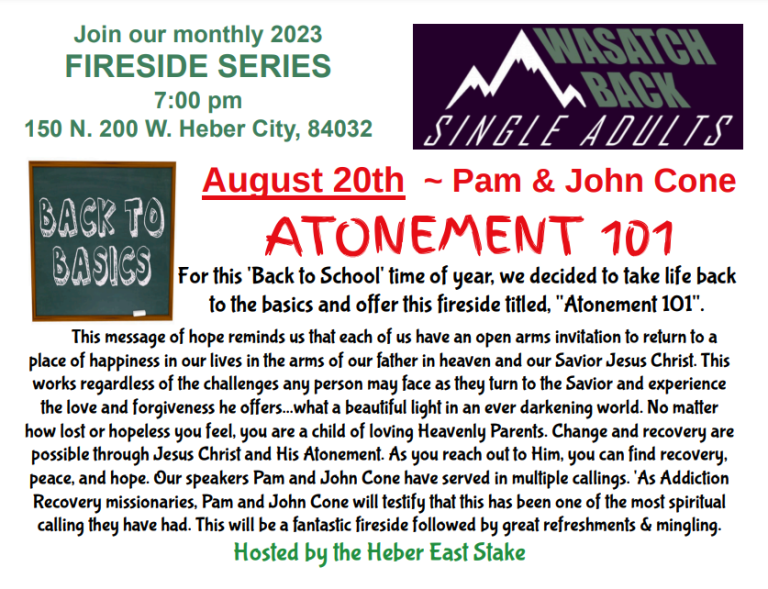 WBSA Fireside with Pam & John Cone ~ "Atonement 101"
150 N. 200 W.
Heber City , UT 84032
For our August fireside, we will take you back to school and the basics of our happiness. Our speakers, Pam and John Cone, will share their presentation titled, "Atonement 101". This message of hope is that everyone of us have an open arms invitation to return to a place of happiness in our lives in the arms of our father in heaven, and our Savior Jesus Christ. This works regardless of the challenges any person may face as they turn to the Savior and experience those love and forgiveness he offers what a beautiful light in an ever darkening world. No matter how lost or hopeless you feel, you are a child of loving Heavenly Parents. Change and recovery are possible through Jesus Christ and His Atonement. As you reach out to Him, you can find recovery, peace, and hope. Following our fireside, please join us for some very nice refreshments plus mingling. This fireside is for all single adults 31-101+; however, SOMETHING DIFFERENT is being offered for our MID-SINGLES (ages 31-50). There will be a separate room for your refreshments and mingling after the fireside (in the RS room, just off of the kitchen).
We look forward to seeing all of our single adults there!