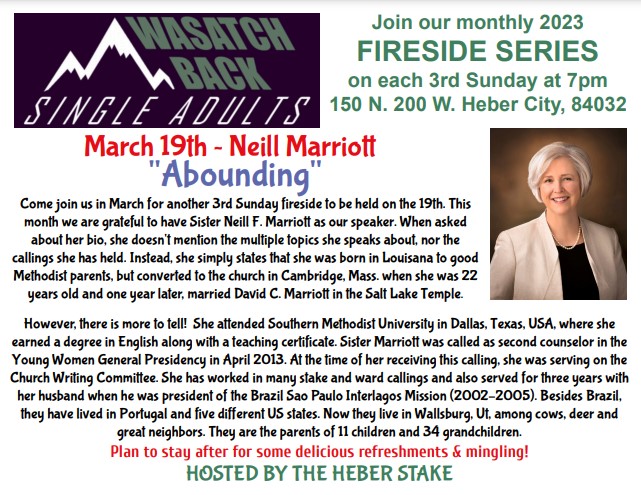 Fireside with Sister Neill Marriott
150 N. 200 W.
Heber City , UT 84032
Plan on attending this wonderful 3rd Sunday fireside for an uplifting message titled "Abounding" by Sister Marriott, former YW General Board Presidency. Be sure and stay afterwards for delicious refreshments and mingling. Hosted by the Heber Stake!
Held on March 19th in Heber City, we are grateful to have Sister Neill F. Marriott as our speaker. When asked about her bio, she doesn't mention the multiple topics she speaks about, nor the callings she has held. Instead, she simply states that she was born in Louisiana to good Methodist parents, but converted to the church in Cambridge, Mass. when she was 22 years old and one year later, married David C. Marriott in the Salt Lake Temple.
However, there is more to tell! She attended Southern Methodist University in Dallas, Texas, USA, where she earned a degree in English along with a teaching certificate. Sister Marriott was called as second counselor in the Young Women General Presidency in April 2013. At the time of her receiving this calling, she was serving on the Church Writing Committee. She has worked in many stake and ward callings and also served for three years with her husband when he was president of the Brazil Sao Paulo Interlagos Mission (2002–2005). Besides Brazil, they have lived in Portugal and five different US states. Now they live in Wallsburg, Ut, among cows, deer and great neighbors. They are the parents of 11 children and 34 grandchildren.