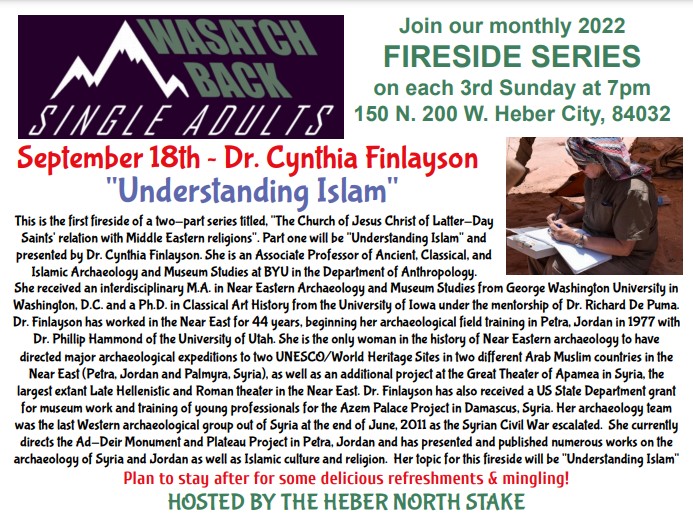 FIRESIDE ~ Understanding Islam
150 N. 200 W.
Heber City , UT 84032
This is the first fireside of a two-part series titled, "The Church of Jesus Christ of Latter-Day Saints relation with Middle Eastern religions". Part one will be "Understanding Islam" and presented by Dr. Cynthia Finlayson. She is an Associate Professor of Ancient, Classical, and Islamic Archaeology
and Museum Studies at BYU in the Department of Anthropology. She received an interdisciplinary M.A. in Near Eastern Archaeology and Museum Studies from George Washington University in Washington, D.C. and a Ph.D. in Classical Art History from the University of Iowa under the mentorship of Dr. Richard De Puma. Dr. Finlayson has worked in the Near East for 44 years, beginning her archaeological field training in Petra, Jordan in 1977 with Dr. Phillip Hammond of the University of Utah. She is the only woman in the history of Near Eastern archaeology to have directed major archaeological expeditions to two UNESCO/World Heritage Sites in two different Arab Muslim countries in the Near East (Petra, Jordan and Palmyra, Syria), as well as an additional project at the Great Theater of Apamea in Syria, the largest extant Late Hellenistic and Roman theater in the Near East. Dr. Finlayson has also received a US State Department grant for museum work and training of young professionals for the Azem Palace Project in Damascus, Syria. Her archaeology team was the last Western archaeological group out of Syria at the end of June, 2011 as the Syrian Civil War escalated. Dr. Finlayson has researched the funerary portraits of Palmyra since 1998 in Syria and has traveled throughout the world cataloguing and studying Palmyrene portraits in the major museum collections of the Near East, Turkey, Europe, and the United States. She currently directs the Ad-Deir Monument and Plateau Project in Petra, Jordan and has presented and published numerous works on the archaeology of Syria and Jordan as well as Islamic culture and religion. 
This is going to be a phenomenal fireside followed by delicious refreshments and casual mingling.