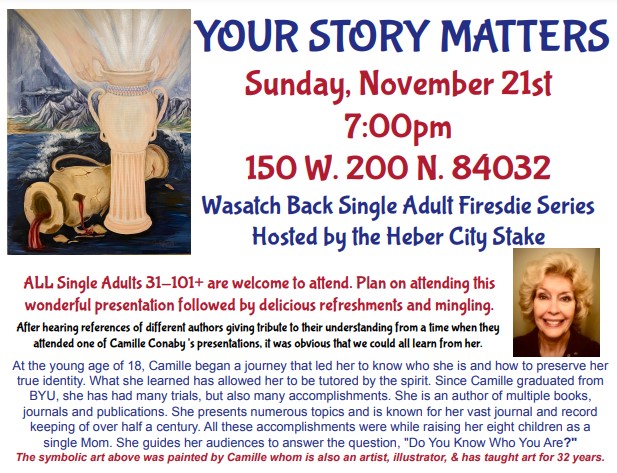 150 N 200 W
Heber City , UT 84032
As part of our Wasatch Back Single Adults Fireside Series, plan on joining us on Nov. 21st for the "Your Story Matters!" presentation by Camille Cornaby.
After hearing references of different authors giving tribute to their understanding from a time when they attended one of Camille Conaby's presentations, it was obvious that we could all learn from her.
At the young age of 18, Camille began a journey that led her to know who she is and how to preserve her true identity. What she learned has allowed her to be tutored by the spirit. Since Camille graduated from BYU, she has had many trials, but also many accomplishments. She is an author of multiple books, journals and publications. She presents numerous topics and is known for her vast journal and record keeping of over half a century. All these accomplishments were while raising her eight children as a
single Mom. She guides her audiences to answer the question, "Do You Know Who You Are?"
The symbolic portrait used as the photo for this event was painted by Camille whom is also an artist, illustrator, and has taught art for over 32 years. Come hear why she says this painting is her self-portrait.
Following the fireside presentation, you are invited to stay for some delicious refreshments and mingling. We look forward to seeing you there!
This fireside is hosted by the Heber City Stake