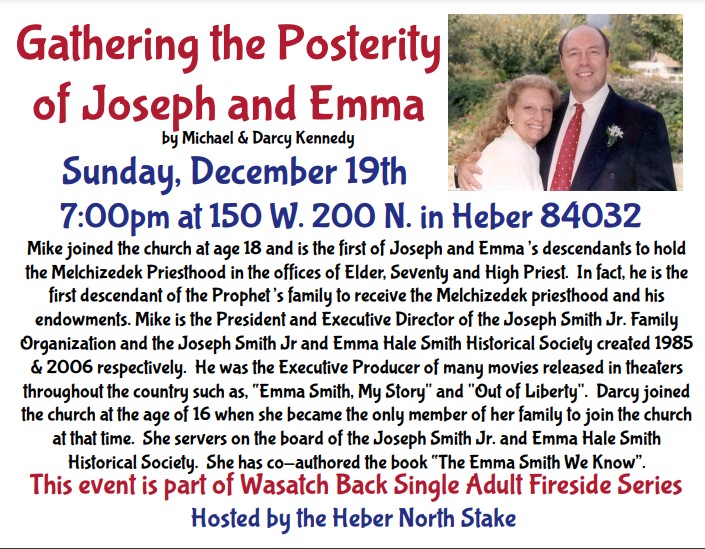 Gathering the Posterity of Joseph and Emma
150 N 200 W
Heber City , UT 84032
Have you ever wondered what happened to the children of Joseph and Emma and where they are today? Well, MARK YOUR CALENDARS NOW……On Sunday, Dec. 19th, we are honored to have Michael and Darcy Kennedy be our fireside presenters that night. As we close this year of studying the Doctrine & Covenants, we can celebrate our prophet Joseph Smith, just four days before his birthday, by hearing what one of his direct descendants has learned in his journey to find the gospel.
Mike joined the church at age 18 and is the first of Joseph and Emma's descendants to hold the Melchizedek Priesthood in the offices of Elder, Seventy and High Priest.  He is the first descendant of the Prophet's family to receive the Melchizedek priesthood and his endowments. He is the President and Executive Director of the Joseph Smith Jr. Family Organization and the Joseph Smith Jr and Emma Hale Smith Historical Society created 1985 & 2006 respectively.   He was the Executive Producer of the movie released in theaters throughout the country, "Emma Smith, My Story and Out of Liberty.  In addition, he has produced the following films:  "The Times and Teachings of the Prophet Joseph Smith,  "Children of Joseph" and "Discovering Emma."
The missionaries found his wife, Darcy, at the age of 16 when she became the only member of her family to join the church at that time.  She servers on the board of the Joseph Smith Jr. and Emma Hale Smith Historical Society.  She has co-authored the book "The Emma Smith We Know" and she calls her moment in the movie "Emma Smith My Story" her "fifteen seconds of fame."
Following the fireside, there will be wonderful refreshments and mingling, so please plan on staying and enjoying good company. 
This fireside is hosted by the Heber North Stake.