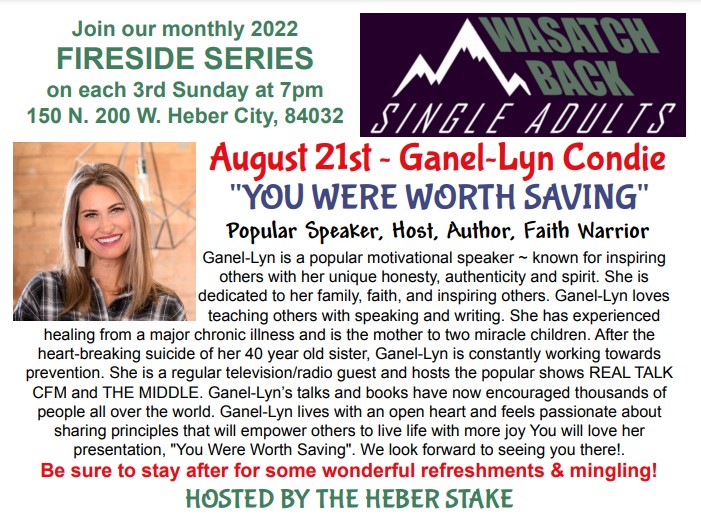 FIRESIDE ~ Ganel-Lyn Condie ~ "You Were Worth Saving"
150 N. 200 W.
Heber City , UT 84032
Join us for another uplifting night in our monthly 3rd Sunday Fireside Series. This month we are honored to have Ganel-Lyn Condie speak to us. Ganel-Lyn is a popular motivational speaker ~ known for inspiring others with her unique honesty, authenticity and spirit. She is dedicated to her family, faith, and inspiring others. Ganel-Lyn loves teaching others with speaking and writing. She is a regular television/radio guest and hosts the popular shows REAL TALK CFM and THE MIDDLE. Ganel-Lyn's talks and multiple books have now encouraged thousands of people all over the world. Ganel-Lyn lives with an open heart and feels passionate about sharing principles that will empower others to live life with more joy You will love her presentation, "You Were Worth Saving". We look forward to seeing you there!.   
Plan on staying afterwards for wonderful refreshments and mingling
Spread the word and invite all the singles 31-101+ to come also. 
This fireside is hosted by the Heber City Stake