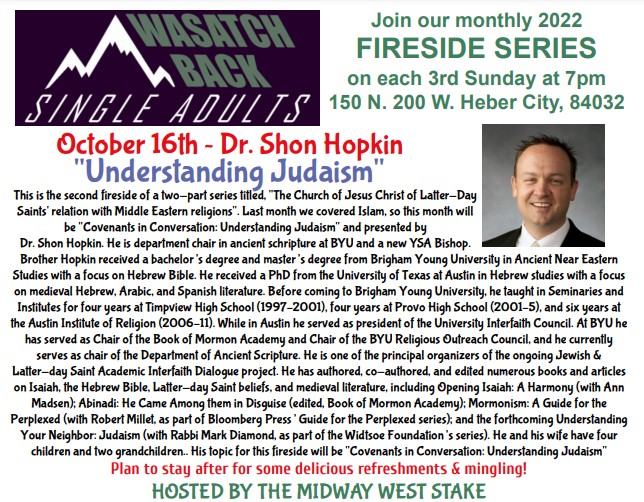 FIRESIDE ~ "Covenants in Conversation: Understanding Judaism"
150 N. 200 W.
Heber City , UT 84032
You won't want to miss this great fireside TONIGHT! It is the second fireside of a two-part series titled, "The Church of Jesus Christ of Latter-Day Saints relation with Middle Eastern religions". This fireside will be "Covenants in Conversation: Understanding Judaism" and presented by Dr. Shon Hopkin. He is a department chair in ancient scripture at BYU and a new YSA Bishop.
Brother Hopkin received a bachelor's degree and master's degree from Brigham Young University in Ancient Near Eastern Studies with a focus on Hebrew Bible. He received a PhD from the University of Texas at Austin in Hebrew studies with a focus on medieval Hebrew, Arabic, and Spanish literature. Before coming to Brigham Young University, he taught in Seminaries and Institutes for four years at Timpview High School (1997–2001), four years at Provo High School (2001–5), and six years at the Austin Institute of Religion (2006–11). While in Austin he served as president of the University Interfaith Council. At BYU he has served as Chair of the Book of Mormon Academy and Chair of the BYU Religious Outreach Council, and he currently serves as chair of the Department of Ancient Scripture. He is one of the principal organizers of the ongoing Jewish & Latter-day Saint Academic Interfaith Dialogue project. He has authored, co-authored, and edited numerous books and articles on Isaiah, the Hebrew Bible, Latter-day Saint beliefs, and medieval literature, including Opening Isaiah: A Harmony (with Ann Madsen); Abinadi: He Came Among them in Disguise (edited, Book of Mormon Academy); Mormonism: A Guide for the Perplexed (with Robert Millet, as part of Bloomberg Press' Guide for the Perplexed series); and the forthcoming Understanding Your Neighbor: Judaism (with Rabbi Mark Diamond, as part of the Widtsoe Foundation's series). He and his wife have four children and two grandchildren. His topic for this fireside will be "Covenants in Conversation: Understanding Judaism"
Plan on staying after the fireside for some great refreshments and nice mingling. We look forward to seeing you there!
Hosted by the MIDWAY WEST STAKE as part of the WBSA Fireside Series