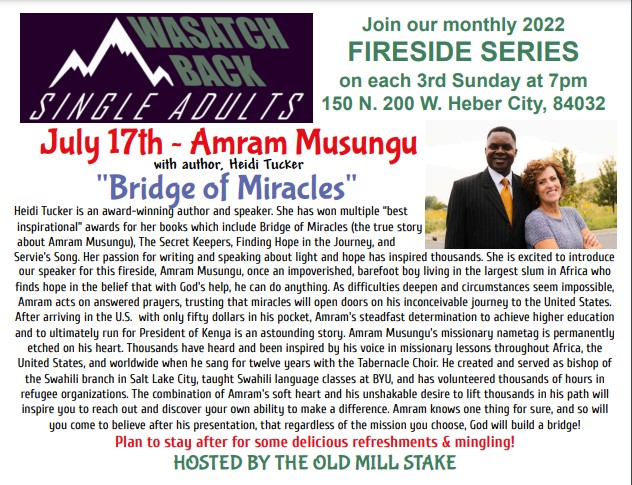 FIRESIDE ~ "Bridge of Miracles"
150 N. 200 W.
Heber City , UT 84032
What an amazing evening this will be with Heidi Tucker as she introduces our speaker, Amram Musungu. You will be uplifted and inspired with the journey of hope and miracles that Brother Musungu has experienced. Joining the church as a young teen and, at age 17,  he was set apart as an Elder to serve a proselyting mission in his native country. Despite many trials, he eventually made it to America where he completed his education. Musungu helped to translate the Book of Mormon into Swahili and has served as branch president of the Swahili branch in Salt Lake City, sang for 11 years as a member of the Mormon Tabernacle Choir, and a professor of Swahili at Brigham Young University. In 2017 Musungu received a nomination for the presidency of Kenya. No matter what our journey is in life, with faith God will build you a bridge of miracles. 
Plan on staying afterwards for wonderful refreshments and mingling ~ spread the word and invite all the singles 31-101+ to come also. We look forward to seeing you all there!