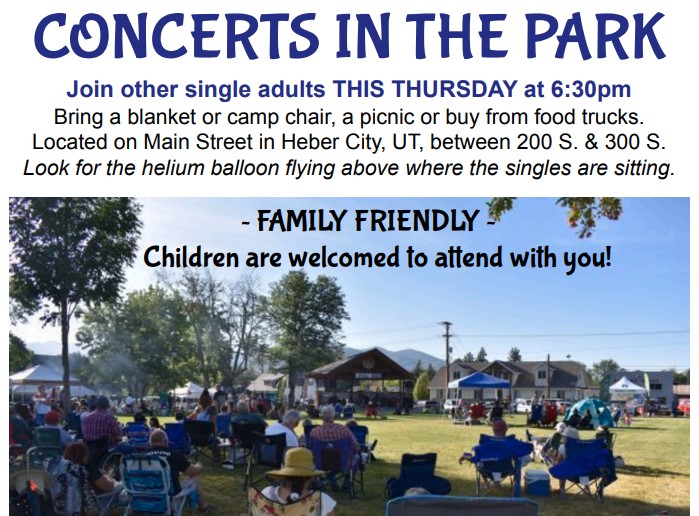 Concert in the Park and Outdoor Market
200 S. Main Street
Heber City , UT 84032
Join other single adults for a fun evening of music, food, great company and wonderful clear evening. The live entertainment for this night is Jeff Crosby Band. Born and raised in Idaho, Jeff Crosby has been sharing his unique perspective of Americana throughout the US and Europe over the past decade. After moving to Los Angeles CA in 2012, Crosby landed 2 songs ("This Old Town" and "Oh Love, Oh Lord") on the hit FX series Sons of Anarchy which has led to the band continually performing over 200 shows a year throughout the US and Europe. To learn more about this night's entertainment, click on this link: https://hebermarket.com/event/8-18-2022/  
It is such a relaxing evening activity, as we listen to the live band, eat, visit, shop at the various vendors, and sometimes even play some games. We hope you will join us! 
Bring a blanket and/or a camp chair to sit on.
You could picnic if you'd like or take advantage of all the food trucks readily available at the Heber City Park.
Look for the smiley face helium balloon above the singles toward the side where the food trucks are.
This is a family friendly event if you would like to bring your kids and/or grandchildren.
We look forward to seeing you there!