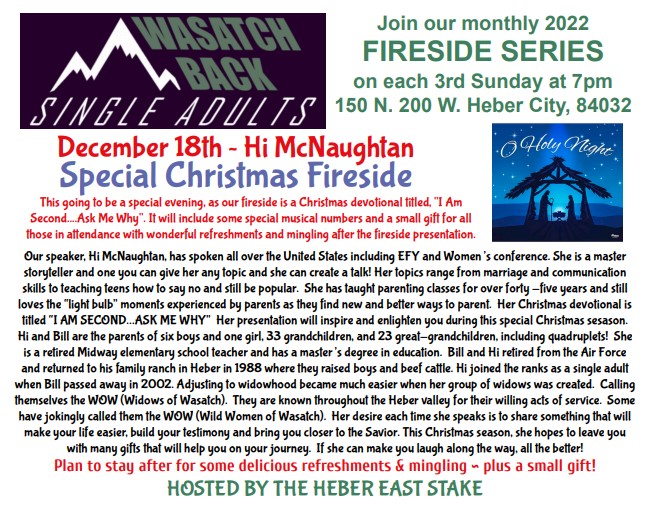 CHRISTMAS FIRESIDE (plus Sing-Along at 6:45 to 7:00pm)
150 N. 200 W.
Heber City , UT 84032
December's 3rd Sunday Fireside on the 18th will be a special "CHRISTMAS FIRESIDE" with Hi McNaughtan and some special musical numbers. Plus, a gift for all who attend. As usual, following the fireside, there will be some nice refreshments and mingling, so plan on staying to enjoy that part of the evening also. Also, there will be a short "Sing-Along" from 6:45 to 7:00pm in the chapel prior to the fireside. See you there!
Our speaker, Hi McNaughtan, has spoken all over the United States including EFY and Women's conference. She is a master storyteller and one you can give her any topic and she can create a talk! Her topics range from marriage and communication skills to teaching teens how to say no and still be popular. She has taught parenting classes for over forty -five years and still loves the "light bulb" moments experienced by parents as they find new and better ways to parent. Her Christmas devotional is titled "I AM SECOND…ASK ME WHY" Her presentation will inspire and enlighten you during this special Christmas sesason.
Hi and Bill are the parents of six boys and one girl, 33 grandchildren, and 23 great-grandchildren, including quadruplets! She is a retired Midway elementary school teacher and has a master's degree in education. Bill and Hi retired from the Air Force and returned to his family ranch in Heber in 1988 where they raised boys and beef cattle. Hi joined the ranks as a single adult when Bill passed away in 2002. Adjusting to widowhood became much easier when her group of widows was created. Calling themselves the WOW (Widows of Wasatch). They are known throughout the Heber valley for their willing acts of service. Some have jokingly called them the WOW (Wild Women of Wasatch). Her desire each time she speaks is to share something that will make your life easier, build your testimony and bring you closer to the Savior. This Christmas season, she hopes to leave you with many gifts that will help you on your journey. If she can make you laugh along the way, all the better!